Tony Waiters
1972-1977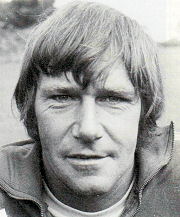 Tony Waiters arrived at Home Park in October 1972. Plymouth Argyle were the first team he had managed, but he had an impressive playing career behind him.
Born in Southport, Lancashire, in 1937, Waiters started out with Bishop Auckland in the Northern League and was capped as an England Amateur in 1959 before turning professional at the relatively advanced age of 22. Following a brief spell with Macclesfield Town, he joined First Division Blackpool in October 1959, and went on to make some 300 appearances in his eight seasons there. A safe and reliable goalkeeper, he also made five appearances for the Football League XI, starting with a match against the League of Ireland in October 1963.
In May 1964, Waiters won his first England cap in an away friendly with the Republic of Ireland. England won the match 3-1. He then played in a 5-1 loss to Brazil in the Nations Cup in Rio de Janeiro, in a 2-1 Home International win against Wales, and in friendlies against Belgium and the Netherlands.
Tony Waiters was named in the original 40 man squad for the 1966 World Cup finals, but he never played for England again. However, he did keep goal in a match between Great Britain and The Rest of Europe held in honour of Stanley Matthews in April 1965. Matthews himself played for the Great Britain team, while The Rest of Europe side included Hungary's Ferenc Puskas and legendary Soviet goalkeeper Lev Yashin.
In 1967, Blackpool were relegated, and Waiters retired to take up coaching. He worked for the Football Association as a Regional Coach, and for Liverpool's youth development programme, before moving to Burnley. There, in 1970, an injury to the team's goalkeeper led to him coming out of retirement to play again. After making another 40 appearances, he finally hung up his boots for good in 1972.
As early as 1960, Waiters had begun studying for his coaching qualifications, gaining a full FA coaching badge in 1964, and completing an FA course in football management at Loughborough University in 1971. Shortly after leaving Burnley, he became manager of the England Youth team, and swiftly acquired the reputation that attracted the board of Plymouth Argyle.
Having led the England Youth team to victory in the European Youth Championship in 1973, Waiters took Argyle to the semi final of the League Cup in 1973-1974, and to promotion to the Second Division in 1974-1975. Two years later, in April 1977, he was sacked.
Waiters then moved to Canada to become coach of the Vancouver Whitecaps in the North American Soccer League, leading them to two divisional championships and, in 1979, to victory in the Soccer Bowl, the overall NASL championship. As a result, he was appointed manager of the Canada national team, a position he held for four years and 40 matches.
Under Waiters, Canada reached the quarter finals of the 1984 Olympic football tournament in Los Angeles. They also qualified for their first World Cup finals in 1986, although their Mexican odyssey was to end at the group stage.
In 1986, Waiters stood down as Canada manager. He still lives in Vancouver, where he runs a coaching company, World of Soccer. In 2001, he was inducted into the Canadian Football Hall of Fame. Despite all his achievements, however, he maintains that he has never had a 'real job'.
[Kindly supplied by Peggy Prior, author of The Gaffer Tapes, a series on Argyle's managers that first appeared in matchday programmes in 2007-08]