Steve Mccall
1995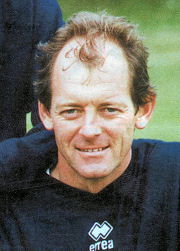 Steve McCall, one of the most skilful midfielders ever to play for Plymouth Argyle, managed the team for two months in 1995.
Born in Carlisle in 1960, McCall was an apprentice with Ipswich Town and made his first team debut in October 1978. He spent eight seasons at Portman Road, scoring seven goals, playing in their UEFA Cup victory of 1981, and frequently playing alongside former Argyle star Paul Mariner.
Whilst with Ipswich, McCall was also capped for England, six times for the Youth squad, six times as an Under 21 and once for the England 'B' side. In 1982, he was part of the team which won the European Under 21 Championship.
By June 1987, McCall had 249 League starts for Ipswich under his belt, including 175 consecutive matches. He then signed for First Division Sheffield Wednesday, where he spent five years. During that time, he suffered a broken leg and struggled with other serious injuries which left him on the sidelines for all but 21 League matches, during which he scored twice. He also played six matches for his home town club, Carlisle United, during a loan spell in 1990.
In March 1992, McCall joined Argyle for a bargain £25,000, scoring on his second appearance but experiencing relegation at the end of the season. In 1993-1994, when the Pilgrims reached the play offs, he missed just one match. His vast experience and skilled passing earned him the title of Player of the Year in both 1992-1993 and 1993-1994, making him the first player since his old team mate Mariner to win the award two years running.
When Peter Shilton was suspended in February 1995, McCall took over as Argyle's temporary player manager. The team were already struggling, and, despite his best efforts, results did not improve. The board of directors twice offered to bring in an experienced coach to assist him, but he declined. He did, however, bring in former England international Russell Osman to help out on the pitch, and in April, when McCall stood down as manager, Osman took over.
The Pilgrims were relegated again at the end of the 1994-1995 season, but McCall stayed on, although further injury problems prevented him from playing more than four matches in 1995-1996 and he missed the play off final. That summer, he left to become player coach at Torquay under former Pilgrim Kevin Hodges. Following their success in taking Torquay to the 1998 play off final, the pair returned to manage at Home Park.
Steve McCall's second term with Argyle started when he was nearly 38 years old. Off the pitch, he was assistant manager, while on it he continued to play a key role even if, by now, he rarely played the full 90 minutes. In two full seasons, he made just fourteen League starts, and in 2000-2001, although still registered as a player, he did not play at all, concentrating on his coaching duties. In his two spells with Argyle, he had started 147 matches in all competitions, and scored six goals.
In October 2000, Kevin Hodges was sacked as Argyle manager and Steve McCall also left the club. He now works as chief scout for his first club, Ipswich Town.
[Kindly supplied by Peggy Prior, author of The Gaffer Tapes, a series on Argyle's managers that first appeared in matchday programmes in 2007-08]