Russell Osman *
1995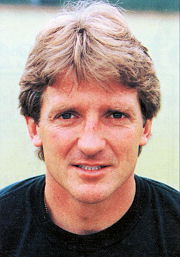 England centre back Russell Osman came to Home Park as a player but instead found himself managing the first team.
Osman was born in Repton, Derbyshire, in 1959. A schoolboy rugby player, he was made captain of the England Under 16 rugby team, but decided to concentrate on football. He joined Ipswich Town as an apprentice, and was part of the team which won the 1975 FA Youth Cup.
Osman made his first team debut for Ipswich in March 1976 and soon forged a strong central defensive partnership with Terry Butcher. He was to go on to make over 380 appearances and score 21 goals for the club, who were runners up in the 1981 and 1982 League Championships and won the 1981 UEFA Cup.
Osman also won international honours, starting out as an England Youth International in 1977 and winning the first of seven Under 21 caps in February 1979. He then won two England 'B' caps, playing alongside Ipswich team mate, Paul Mariner, in 1980.
By the time he made his second England 'B' appearance, Osman had already won his first full senior call up, and he was to win eleven caps between May 1980 and September 1983. He played in qualifying for both the 1982 World Cup and the 1984 European Championships, but was not selected for the finals of either competition.
In 1981, meanwhile, Osman appeared in John Huston's film Escape to Victory, alongside Michael Caine, Sylvester Stallone and some of the best known footballers of the time, including Bobby Moore and Pele.
Russell Osman joined Leicester City in 1985. In three seasons at Filbert Street, he made 120 appearances and scored eight goals. He then signed for Southampton in the summer of 1988, where he also played 120 games, scoring eight, in three seasons.
In October 1991, Osman, now 32 years old, transferred to Second Division Bristol City. In 1993 he gained his full Football Association Coaching Licence and began to combine playing with coaching the club's youngsters, as well as serving as caretaker manager for a short time. Having played over 75 games and scored three goals, he was then appointed manager in January 1993. At the end of his first full season in charge, though, Bristol City were relegated, and he was dismissed in November 1994.
Anxious to keep fit, Osman began to train with relegation threatened Plymouth Argyle and in March 1995 manager Steve McCall asked him to play for the club on a non contract basis. Osman was taking legal action against Bristol City for unfair dismissal so, in order to protect his compensation claim, he agreed to play for free. However, McCall resigned before Osman had played a single game, and Osman was asked to take charge of the team with nine matches left to play. Because of his legal case, he was not paid or given the title of manager, but was known as an 'adviser on team affairs'. Nonetheless, he led Argyle to three wins and two draws. Unfortunately, other teams' results did not go the Pilgrims' way, and they were relegated.
During his short spell in charge, and despite failing to avoid the drop, Osman had made a good impression. However, Chairman Dan McCauley decided not to keep him on, appointing Neil Warnock instead. Osman got his boots out again, making sixteen starts for Brighton and Hove Albion and another fourteen for Cardiff City, before retiring.
1996-1997 found Osman coaching the England Under 18 squad. He also managed Cardiff City from November 1996 to January 1998, guiding them to 22 wins and 24 draws in 67 matches. In 2004, he spent five weeks as joint caretaker manager of Third Division Bristol Rovers.
Russell Osman now works in the media as a football commentator, pundit and writer, and runs an academy for young footballers.
[Kindly supplied by Peggy Prior, author of The Gaffer Tapes, a series on Argyle's managers that first appeared in matchday programmes in 2007-08]