Peter Shilton
1992-1995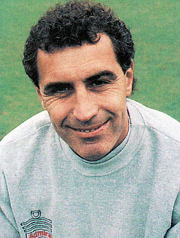 Record breaking England goalkeeper Peter Shilton joined Plymouth Argyle as player manager in 1992, the highest profile signing in the club's history.
Born in Leicester in 1949, Peter Leslie Shilton started as an apprentice with Leicester City. He made his professional début at the age of sixteen, and went on to make 286 League appearances for the club, scoring what was to be his only League goal. In 1974, he signed for Stoke City for £325,000, then a world record fee for a goalkeeper, and played 110 League matches in three seasons with them.
In 1977, Shilton joined Nottingham Forest, making 202 League appearances and becoming the Professional Footballers' Association Player of the Year in 1978. Under the leadership of Brian Clough, he was part of the Forest team which won the League and League Cup double in 1978, the League Cup again in 1979, and the European Cup in both 1979 and 1980.
He then moved on to Southampton, where he made 188 League appearances between 1982 and 1987 and was awarded the MBE in 1986, before signing for Derby County in 1987. He played another 175 League matches for Derby, and became an OBE in 1990.
Shilton's international career was equally impressive. A former England Schoolboy international, he played for England Youth and was capped thirteen times for the Under 23s. He also played for the senior team no less than 125 times between 1970 and 1990, making him England's all time most capped player. With him in goal, England won 66, drew 35 and lost just 24.
Having made 961 League appearances in his domestic career, Peter Shilton signed for Plymouth Argyle as player manager, his first managerial position, in March 1992. He did not select himself until the following month, though, and was to play just 34 games in his 22 months at Home Park.
When Shilton took over, Argyle were in trouble. Despite his best efforts, they were relegated at the end of his first season, but the formation of the Premiership meant that the division they played in was still called the Second. By December 1992, questions were being asked about his managerial ability: although, in the opinion of many Argyle supporters, the team were playing some of the best football ever seen at Home Park, results were not so impressive. There were also signs of friction between Shilton and club Chairman Dan McCauley, and towards the end of the 1993-1994 season the feud came out into the open, Shilton stating that he was not fully backed by the board, and McCauley effectively casting a vote of no confidence in the manager.
Having taken the club to the Third Division playoffs in May 1994, and having come to an agreement of sorts with the Chairman, Shilton's position seemed a little more secure at the beginning of 1994-1995. However, a further run of poor results, the team's appalling disciplinary record and a public outburst from McAuley soon put him back under pressure. At the beginning of January 1995, he was 'suspended' from his duties, never to return.
Although well into his forties, Shilton returned to being a full time player. He went to Wimbledon, then to Bolton Wanderers, Coventry City and West Ham, making just one appearance as a substitute for Bolton and none for the other clubs. Then, in November 1996, he signed for Third Division Leyton Orient, where, at the age of 47, he became the first player ever to make 1,000 English League appearances.
In 1997, Peter Shilton finally hung up his boots, having made 1,004 League appearances, played countless Cup games, won 125 England caps, and scored that solitary goal for Leicester City. He now works in the media, on the after dinner speaking circuit, and does some coaching.
[Kindly supplied by Peggy Prior, author of The Gaffer Tapes, a series on Argyle's managers that first appeared in matchday programmes in 2007-08]