Paul Sturrock
2007 - 2009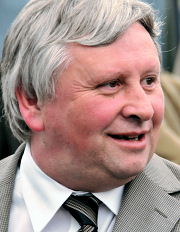 ... continued from his first spell as manager (2000-04).
Sturrock's career with Southampton started with a fanfare, but very quickly collapsed. Two games into the 2004-2005 season, with just thirteen matches to his name, he was dismissed. Just weeks later, he was appointed manager of Second Division Sheffield Wednesday and, at the end of the 2004-2005 season, continued his winning habit by guiding them to promotion. In November 2006, he became manager of Swindon Town, and exactly one year later he returned to Home Park for his second term at Argyle.
2007-2008 was to be a turbulent season for Luggy, with the departure of a number of key players in the January transfer window. Despite this, the team achieved a respectable tenth place finish in the Championship. In 2008-2009, however, relegation seemed to be looming. Sturrock turned it around, but could only lead the team to 21st.
At the start of 2009-2010, little seemed to have changed despite the signing of a number of new players. By the beginning of December, the team had won just four and drawn three of their seventeen matches. With pressure from the supporters growing, the Board took the decision on 10 December 2009 to relieve Sturrock of his managerial duties.
[Kindly supplied by Peggy Prior, author of The Gaffer Tapes, a series on Argyle's managers that first appeared in matchday programmes in 2007-08]