Paul Sturrock
2000-2004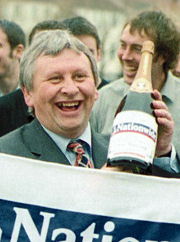 Paul Sturrock was a star of Scottish club and international football.
Paul Whitehead Sturrock was born in 1956 and grew up in central Scotland. By the age of fourteen, and despite being, in his own words, 'a wee scrawny thing', he was playing for a men's team, and in 1973, aged seventeen, he signed for Dundee United as an amateur. He made his first team debut in a European Cup Winners' Cup tie in September 1974, and was to stay at Tannadice for fifteen years, the whole of his playing career.
Luggy was part of the Dundee United team which won the Scottish League Cup in both 1979 and 1980, and took the League title in 1982-1983, setting records for both the number of goals scored and points won. They were runners up in the 1981 and 1984 League Cups, and in the Scottish FA Cup on four occasions. In Europe, they reached the semi finals of the European Cup in 1984 and beat Barcelona en route to becoming the first Scottish club to reach the UEFA Cup semi final in 1987.
In 1982, the Scottish Football Writers' Association made Sturrock Scotland's Player of the Year, and on 17 November 1984 he scored a record five goals in one game, in a 7-0 demolition of Morton. In all, he netted 171 goals in 576 matches in all competitions for Dundee United.
As with his domestic career, Sturrock's international career began young, and he played six matches for the Scotland Youth team. He then became a member of the first ever Scotland Under 21 side, winning nine caps, including the semi final of the 1982 European Under 21 Championship.
By then, Luggy had also won his first senior cap, on 16 May 1981. He was to go on to win nineteen more caps, nine of them as a substitute, but was called into the Scotland squad some 60 times. As he told the BBC: ""From day one, Jock Stein said 'Paul, whenever Kenny Dalglish isn't fit, you'll play'. That was enough of an accolade for me." In fact, he made his first start just three days after his debut, playing the full 90 minutes against Billy Bingham's Northern Ireland.
During his fourth Scotland match, in a November 1981 World Cup qualifier against Portugal, Sturrock scored the opening goal, becoming the first Dundee United player ever to score for Scotland and sealing a 1-1 draw which gave Scotland a place in the 1982 finals. In Spain, though, Scotland were knocked out at the group stage without an appearance from Luggy.
The peak of his international career, however, came when he appeared for Scotland in the World Cup finals in Mexico. He played the first hour of the 1-0 defeat by Denmark on 4 June, and the first seventy minutes of the 0-0 draw with Uruguay nine days later. However, Scotland were again unable to make it past the group stage. Ten months later, Sturrock won his twentieth, and last, cap in a European Championship qualifier away to Belgium.
In 1988, Luggy began to wind down his playing career, making just twenty appearances for Dundee United and scoring his last goal for the club on 8 April 1989. Having started coaching the Dundee United junior teams while still a player himself, he became full time first team coach in 1989, a job he held for nearly five years. In 1993, however, he left Tannadice to become manager of Scottish Premier rivals St Johnstone. Although they were relegated at the end of his first season, he rebuilt the team, winning promotion back to the Premiership in 1996-1997 and laying the foundations for their domestic and European successes under his successor.
Then, ten years after retiring as a player for Dundee United, Sturrock returned to manage the team in 1998. By now, however, the club had declined from the heady days he had enjoyed with them. Despite a promising start, and runs which took them to the final of the League Cup in 1998-1999 and the semi finals of both the 1999 FA Cup and the 2000 League Cup, they narrowly avoided relegation in both 1998-1999 and 1999-2000. After just two League matches in the 2000-2001 season, he announced his resignation as manager, citing personal reasons and expressing his desire to take a break from football. Recently, he told the BBC: "Stepping down was probably the saddest day of my life."
Two months later, on 31 October 2000, Paul Sturrock was appointed manager of Plymouth Argyle. He inherited a club that was deep in trouble at the bottom of the Third Division. By the end of the season, however, he had turned things round to such an extent that, at one stage, it looked as if a play off place might be possible. In the end, Argyle finished twelfth. Then, in 2001-2002, everything came together: with the new stadium growing around them, the Pilgrims surged up the table to win the Third Division Championship and, in an echo of Sturrock's Dundee United days, score the second highest number of points in the history of the Football League with 102 out of a possible 138.
2002-2003 was, in comparison, a fairly quiet season, with Argyle finishing a very comfortable eighth. That proved to be the calm before the storm, though, as, following a slightly shaky start to 2003-2004, Argyle once again stormed up the table. On 2 March 2004, however, immediately after a superb 2-0 home victory over Sheffield Wednesday, Sturrock announced that he was leaving the club to join Premiership Southampton. For a while, it looked as if everything he had built was about to crumble, as Argyle won just twelve points in their next nine matches. However, his legacy held strong, and the Pilgrims celebrated their second Championship in three years.
Continued in his second spell as manager (2007- ) ...
[Kindly supplied by Peggy Prior, author of The Gaffer Tapes, a series on Argyle's managers that first appeared in matchday programmes in 2007-08]