Neil Warnock
1995-1997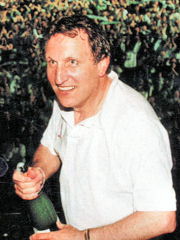 As a manager, Neil Warnock has become known as the King of the Play-offs. As well as leading Plymouth Argyle to victory at Wembley in 1996, he was also at the helm for two play-off victories by Notts County and one for Huddersfield Town. Two more clubs, Scarborough and Sheffield United, have also won outright promotion under his management.
As a player, however, Warnock, a winger, was not really king of anything. As he put it in a recent interview, "My only asset was that I did have pace. I was very quick but I was brainless. ... Who was I most like? Ronaldinho, only without the skill".
Neil Warnock was born in Sheffield on 1 December 1948, and supported Sheffield United from an early age. He joined Fourth Division Chesterfield at the age of seventeen, and made his first team debut aged nineteen, in April 1968. He was released at the end of 1968-1969, having made 24 League appearances and scored two goals.
Warnock then signed for Third Division Rotherham. He spent two seasons there, scoring five goals in 52 League matches.
The beginning of the 1971-1972 season found Warnock back in the Fourth Division, playing for Hartlepool United, who were struggling to avoid relegation. Towards the end of the season, he ruptured his spleen and suffered a hairline fracture of his ankle, both in one key match against Darlington. He was then voted Hartlepool's Player of the Season, possibly as a reward for his bravery in playing on with those injuries. In his whole playing career, that was the only thing Warnock ever won.
By February 1972, Warnock had made 60 appearances for Hartlepool, scoring five, and it was time to move on again. He returned to the Third Division, joining Scunthorpe United for £3,250. Scunthorpe were fourth from the bottom when he signed, and were relegated at the end of the season, but he stayed on until March 1975. In his recent autobiography, he says of his career in the lower divisions: "I didn't have the ability to play at a higher level. ... I just didn't have a cute enough football brain to be a top-class player."
The spring of 1975 saw Warnock moving to his first and only southern club, Third Division Aldershot, where he famously lived in a caravan. Eighteen months, 37 appearances and six goals later, he was back in Yorkshire and back in the Fourth Division, having joined Barnsley. He spent eighteen months at Oakwell, then had a brief spell with York City before signing for his last professional club, Crewe Alexandra, in December 1978.
In May 1979, Warnock hung up his professional boots. Having already qualified as a referee, and more remarkably as a chiropodist, he moved into non-League football with Burton Albion before taking up his first managerial appointment, with Gainsborough Trinity, in July 1980. The rest, as they say, is history.
During his playing career, Neil Warnock made 326 League appearances and scored 36 goals for eight clubs, all of them in the Third and Fourth Divisions. Despite never making it to the upper reaches as a player, however, he soon proved himself an excellent manager. His explanation? "I knew how it should be done; I just couldn't do it myself."
[Kindly supplied by Peggy Prior, author of The Gaffer Tapes, a series on Argyle's managers that first appeared in matchday programmes in 2007-08]