Neil Dougall
1961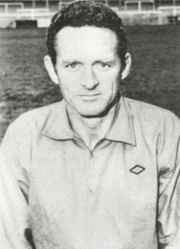 If ever an Argyle player deserved to be described as versatile, then Neil Dougall is that player. Dougall wore the green shirt for nearly ten years, but it wasn't always the same green shirt: he turned out for Argyle in every position except goalkeeper and outside-left. His versatility didn't stop on the pitch, either, as he went on to become coach, manager and scout for the Pilgrims.
Cornelius Dougall was born in 1921, the son of William Dougall, who played for Falkirk, Bury and the Scottish League team. Neil, as he was always known, signed for Burnley as a semi-professional in 1940 before joining the Royal Air Force. Once the hostilities were over, he signed for Birmingham City on a part time basis. Despite combining his football career with the demands of a printing apprenticeship, he made 93 appearances and scored 15 goals for the Blues, and was part of the team which won the 1947-1948 Second Division championship.
Dougall's exploits in the RAF football team had brought him to the attention of the Scotland selectors, and he won his first call-up for the Victory International against England in April 1946. The match, which was held at Hampden Park in Glasgow, attracted a crowd of nearly 140,000. Despite an England line-up which included such names as Billy Wright, Len Shackleton, Tommy Lawton and Denis Compton, Scotland won 1-0.
Later that month, Dougall was again called up to play for Scotland, this time in an unofficial friendly in aid of the Bolton Disaster Fund: in March 1946, 33 people had been crushed to death at an FA Cup second round match between Bolton Wanderers and Stoke City. Scotland played England again, this time at Maine Road, Manchester, and it ended in a 2-2 draw.
Dougall finally won his first - and last - full Scotland cap in a British Championship match against Wales in October 1946. The tie, which Wales won 3-1, was remarkable in that every single member of the Scotland team was making his full international debut.
In March 1949, Neil Dougall signed for Argyle for £13,000. Despite problems with injuries in his first full season, when Argyle were relegated, he soon shone. His skills were second to none, his play was intelligent, he was fast and, although he didn't score many goals, his shot was fierce. His best Argyle season was probably 1951-52, when he, Jack Chisholm and John Porteous were at the heart of the team which won the Third Division (South) Championship. The following season, with Dougall again playing a key role, Argyle reached their best ever final position of fourth in Division Two.
Neil Dougall made his final appearance as a player in December 1958, by which time he had clocked up over 270 appearances and 26 goals for Argyle. However, his Home Park career was far from over: he became a coach, then shared the responsibilities of management with coach George Taylor and then, at last, became sole manager in the spring of 1961. However, his tenure was not long since, by his own admission, Dougall was not really cut out for football management. As Argyle historian Andy Riddle suggests, "he was perhaps too nice a character."
When Ellis Stuttard took over in November 1961, Dougall continued to work for Argyle, coaching, scouting and doing some public relations and fund-raising for the club. When he did finally leave the club he did not go far, taking on the running of the Mayflower Sports Centre just across the road from Home Park. He retired in 1986 and in his later years suffered from Alzheimer's disease. Neil died on November 30th, 2009 at the age of 88.
[Kindly supplied by Peggy Prior, author of The Gaffer Tapes, a series on Argyle's managers that first appeared in matchday programmes in 2007-08]