Mike Kelly
1977-1978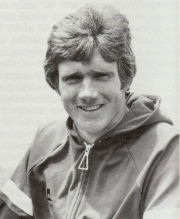 Former England amateur international goalkeeper Mike Kelly managed Plymouth Argyle for ten months following the departure of Tony Waiters.
Kelly was born in Northampton in October 1942 and won his single amateur international cap before turning professional, first with Wimbledon and then, from 1966, for Queens Park Rangers. He played 54 matches for QPR, then signed for Birmingham City in 1970, making another 62 appearances and winning promotion in 1972 before hanging up his gloves in 1975.
Soon afterwards, he arrived at Home Park to manage the reserve team and, when Waiters was dismissed in March 1977, Kelly was appointed manager. Argyle were already struggling in Division Two, and he was unable to prevent relegation at the end of the season.
1977-1978 started as badly as the previous season had ended, with the team winning just one point from the three matches played in October, and the crowds began to dwindle. Kelly brought in new players, but to little effect. In February 1978, he left the club, but it was never made clear whether he did so voluntarily. His departure was, however, a very public one, as he stormed out of Home Park in front of the television cameras, refusing all interviews.
Between 1978 and 1980, Kelly was assistant manager at Fulham, and he went on to carry out similar roles at Crystal Palace and West Bromwich Albion. Meanwhile, he was also England goalkeeping coach, a post he took up in 1984 and held until 1990, nurturing the national goalkeepers through the 1986 World Cup, the 1998 European Championships and his second World Cup, Italia 90. Immediately after stepping down from the England set up, he took over as goalkeeping coach for the Swiss national team, working with them at the 1994 World Cup.
Kelly has also worked with the Chinese and United Arab Emirates national teams, as well as Liverpool, Leeds, Southampton, West Ham, Sheffield United, Grasshopper Zurich, FC Zurich, Middlesbrough, Nottingham Forest, Charlton and Crystal Palace. He is currently assistant manager and goalkeeping coach at Fulham.
[Kindly supplied by Peggy Prior, author of The Gaffer Tapes, a series on Argyle's managers that first appeared in matchday programmes in 2007-08]