Mick Jones
1997-1998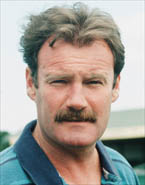 Central defender Mick Jones had a moderately successful career as a player before moving into management.
Jones was born in Sunderland in 1947. His first League club was Brian Clough's Derby County, but in 1969 he signed for Notts County. In four years, he played 100 League matches, scoring once and helping the club to two promotions in three seasons. In 1973, he transferred to Peterborough United, where he made a further 88 appearances, scoring four more goals, and, in 1974, winning another promotion.
In 1976, Jones took his first steps into management when he was appointed player-coach of the now-defunct Ottawa Tigers. Later that year, he returned to England to manage Southern League side Kettering Town, leading them to the 1979 FA Trophy Final.
Although Kettering lost that final, Jones' name was becoming known and he soon got his first League management job, at Mansfield Town. Two years later, he became assistant manager at Bradford City, helping player-manager Roy McFarland. As McFarland continued to play, Jones played a key role in winning promotion to the Third Division in 1982. He then followed McFarland to his old club Derby County for a time.
In 1986, Jones found himself back at another of his old clubs, Peterborough United, as assistant manager, and, from 1988, as manager. During this time, he got to know Neil Warnock, and when Warnock was appointed manager of Jones' third former club, Notts County, Jones joined him as assistant. Together, they took the club to two successive promotions.
In 1993, Warnock and Jones took over at Huddersfield, again winning promotion. Two years later, Warnock became Plymouth Argyle manager, and again chose Jones as his assistant.
When Warnock left Home Park early in 1997, Jones made what he later described as 'probably the biggest mistake in my life' by stepping into the manager's shoes. He inherited a club in utter turmoil, and had to make do with short term contracts and loan players as the Chairman, Dan McCauley, refused to make funds available. Worse was to come during the 1997-1998 season, when McCauley put the club up for sale and then, when no viable buyers came forward, threatened to withdraw from the League altogether. On the last day of the season, Argyle were relegated at Burnley and Mick Jones was dismissed soon afterwards.
After leaving Home Park, Jones became manager of the Brunei national team, taking them to their first ever Malaysian Cup Final appearance, in 1999. He returned to England in 2002, joining Nuneaton Borough as assistant manager and then managing Telford United until financial problems off the pitch led to the collapse of the club.
In 2005, Jones joined up with his old pal Neil Warnock again, assisting him at Sheffield United and helping to win promotion to the Premiership in 2006. The Blades were relegated after just one season at the top, and the pair stood down. In October 2007, Warnock took over at Crystal Palace, and Mick Jones continues to work with him as assistant manager.
[Kindly supplied by Peggy Prior, author of The Gaffer Tapes, a series on Argyle's managers that first appeared in matchday programmes in 2007-08]