Martin Harvey *
1984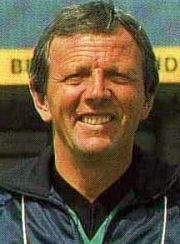 Belfast born wing half Martin Harvey, who spent his entire professional career with Sunderland, managed Plymouth Argyle twice.
Harvey was born in 1941, was capped for Northern Ireland Schoolboys in 1955-1956, and, after being turned down by Burnley, signed for Sunderland at the age of seventeen. He appeared for the youth and reserve teams before making his first team debut in October 1959, thirteen months after joining the club.
Just five feet nine inches tall, Harvey was a tremendous tackler, but style and timing, rather than blood and guts defending, were his greatest skills. However, his intense commitment to the game, and to his club, once led to him punching a Leyton Orient player to the ground while trying to break up a fight on the pitch. He formed part of the sturdy defence which helped Sunderland, then in the Second Division, to finish a frustrating third, when only the top two clubs were promoted, two years in a row before, in 1963-1964, they finally won promotion to the First Division.
Harvey was capped twice for Northern Ireland 'B', and played three matches, all against Wales, for the Under 23 side in 1962, 1963 and 1964. By then, he was already a full international. His first cap was awarded when he was just nineteen years old, in April 1961. Over the next ten years, he was to collect a total of 34 caps, scoring three goals.
During the 1971-1972 season, Martin Harvey sustained serious back and other injuries which forced his premature retirement at the age of 30. He stayed on at Sunderland, joining the coaching staff, and appeared in his testimonial match against Newcastle United in April 1975. He then took a similar job at Carlisle United under manager Bobby Moncur.
When Moncur was appointed manager of Plymouth Argyle in 1981, he brought Martin Harvey with him as assistant manager. The following year, Harvey was assistant to Northern Ireland manager Billy Bingham at the World Cup finals. Then, when Moncur left Argyle in September 1983, Harvey found himself temporarily in charge. He did well, guiding the team to a 1-1 home draw with Arsenal in the League Cup, and, although Argyle lost both their League fixtures under him, he was considered a strong candidate for the permanent position. However, the board decided not to take the risk, and went instead for the experienced Johnny Hore.
Harvey stayed on as assistant manager until, in October 1984, Hore was dismissed and he found himself in the driving seat again. This time, his stewardship was to last for some six weeks, during which Argyle won two and drew one of their six League fixtures, as well as winning their FA Cup first round tie against Barnet. At the beginning of December, Dave Smith was appointed Argyle manager.
In 1985-1986, Martin Harvey left Argyle briefly to work with Billy Bingham in Saudi Arabia and, for the second time, as assistant manager at the World Cup finals. He returned to Home Park, however, and continued to work for the club as a coach until 1990. Following a spell coaching for Millwall, he is thought to have settled in Devon.
[Kindly supplied by Peggy Prior, author of The Gaffer Tapes, a series on Argyle's managers that first appeared in matchday programmes in 2007-08]