Malcolm Allison
1978-1979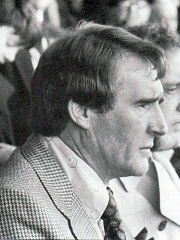 ... continued from his first spell as manager (1964-65).
Following his resignation in 1965, Allison entered the most successful period of his career, not as a manager, but as assistant to Joe Mercer at Manchester City. Between 1965 and 1972, City won the League Championship, the FA Cup, the League Cup and the European Cup-Winners' Cup.
Following a ten-month stint as manager at Maine Road, Allison took the helm at Crystal Palace in 1973. Despite two successive relegations, he led the club, by then in the Third Division, to the 1976 FA Cup semi final.
1976-1977 found Allison managing Turkish side Galatasaray. Then, to the surprise of the Home Park faithful, he returned to manage Argyle for a second time in March 1978. His first move was to save the club from almost-certain relegation to the Fourth Division. Six months later, however, he could not resist the opportunity to return to Manchester City.
Allison's second spell at Maine Road was far from the success of his first, and within fifteen months he was on the move again, repeating the pattern by returning to Crystal Palace. His second term there lasted less than three months, and he left England again, this time for Portugal. There he led Sporting Clube de Portugal to the 1981-1982 championship and the Portuguese cup.
On returning to Britain, Allison managed Middlesbrough between 1982 and 1984. He then spent some eight years outside the game before taking over at Bristol Rovers in 1992, a job which lasted until March 1993 and which was to be his last managerial post.
Despite some very public difficulties, Malcolm Allison is still highly regarded in the football world. However, as Mike Summerbee said, "Malcolm never really was a manager. He was a coach, a glorious coach."
[Kindly supplied by Peggy Prior, author of The Gaffer Tapes, a series on Argyle's managers that first appeared in matchday programmes in 2007-08]