Jimmy Rae
1948-1955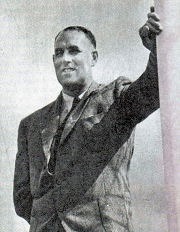 Jimmy Rae was one of eleven players who both ran out for and managed Plymouth Argyle. He also had the misfortune of narrowly missing out on a senior cap for Scotland no less than three times.
James Clarkson Rae, born on 22th November 1907 near Falkirk in Stirlingshire, played for Scotland Schoolboys and became captain of the team. His football career at left-back started at the age of seventeen when he signed as a part-timer for King's Park, the club which later became Stirling Albion. He also completed an apprenticeship as an electrician.
In 1927, Rae joined Partick Thistle, where he made over 100 League appearances and played in the 1929-1930 Scottish Cup Final, which was won by Rangers in a replay. Whilst with Partick, Rae came to the attention of the Scotland selectors, and he was placed on the stand-by list for a friendly match against France in May 1930. Unfortunately for him, his services were not required.
Jimmy Rae was a reliable and skillful defender who preferred to hold on to the ball and make a considered clearance rather than just heft it to safety. His performances for Partick Thistle made him a target for Glasgow Rangers, but Argyle manager Robert Jack spotted him when Partick played a benefit match at Home Park in 1932 and persuaded him to move south.
Rae made his Argyle debut in August 1932 and immediately became a first team regular. He made a total of 249 League and ten FA Cup appearances for the club, missing only a handful of games in his seven seasons at Home Park, and his best years in green were those when he made up an all-Scottish left side with Archie Gorman and Sammy Black.
It was also as an Argyle player that he was selected for the Scotland stand-by list twice more: first for a 1935 Home International match against Wales, and then for another Home International with Northern Ireland, in 1936. Sadly, the call-up to the full senior team never came.
When war intervened in 1939, Rae continued to play for Argyle in the South Western League, and in 1945 he was appointed assistant manager to Jack Tresadern. Early in the 1947-1948 season, he took over as Argyle manager, a position he held for eight years. The club was relegated in 1949-1950, but Rae led them to promotion to Division Two in 1951-1952, and to their highest finishing position of fourth in that Division in 1952-1953. Rae was also responsible for signing players of the calibre of Jack Chisholm and Neil Dougall, amongst others.
Despite his successes, Rae spent much of his managerial career fending off the threat of relegation and, mid-way through the 1954-1955 season, he was dismissed. He left Plymouth to manage a pub in Solihull, but died in July 1958.
[Kindly supplied by Peggy Prior, author of The Gaffer Tapes, a series on Argyle's managers that first appeared in matchday programmes in 2007-08]