Jack Rowley
1955-1960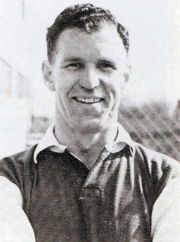 Jack Rowley managed Plymouth Argyle between 1955 and 1960, following an impressive career with Manchester United and England.
Born in Wolverhampton in 1918, John Frederick Rowley was a member of a footballing family: his father was goalkeeper for Walsall, and his younger brother Arthur was also a successful striker who became a manager. Jack signed for Wolverhampton Wanderers in November 1935, when he was 17. Following a short spell with Bournemouth and Boscombe Athletic, he joined Manchester United in October 1937 for £3,500.
Rowley was famously versatile, capable of playing in virtually any forward position. He was an instinctive player, naturally lively and aggressive, and had a searing left-footed shot which earned him the nickname 'The Gunner'. Early in the 1941-1942 season, fifteen goals in three matches earned him a call up to play for the Football League against the Scottish League. He gained his first taste of international football in a Wartime International against Wales in 1944, and scored twice in the 1948 FA Cup Final, United's first win since 1909.
In December 1948, Rowley won his first full England cap and scored a 35-yard screamer in a 6-0 thrashing of Switzerland. He went on to win five more full caps, as well as one for the England 'B' team. He was the top scorer in the 1949-1950 Home International Championship, and his goals helped England reach the World Cup Finals for the first time. Rowley did not go to Brazil in 1950, though, and it seemed his international career was over. However, 30 goals in 1951-1952, including two consecutive hat tricks, won him one last England call up in April 1952.
In February 1955, at the age of 37, Jack Rowley joined Argyle as the first player-manager since Robert Jack's short spell in 1905. In his seventeen years with Manchester United, he had scored 208 goals in 422 appearances; he remains that club's all time third highest scorer, one place ahead of George Best.
Rowley took the 'player' part of his job title seriously, playing thirteen and scoring twice in his first season at Home Park, although he dropped back to inside left, where he could manage the game more effectively. Early in his second season at Home Park, he scored his 200th League goal; his younger brother Arthur also achieved his double century that day, but Jack got there first by twelve minutes. By the time Jack hung up his boots in 1957, he had made a total of 58 League and Cup appearances for Argyle, scoring 14.
On the managerial side, Rowley arrived as Argyle faced relegation, with just five wins in 29 matches. As soon as he took over, though, the Pilgrims recorded their first away win of the season. Although they still finished in twentieth place, he was applauded for keeping the club in the Second Division.
At the end of Rowley's second season, 1955-1956, Argyle were relegated to the Third Division South, finishing eighteenth in 1956-1957 and third the following year. Finally, in 1958-1959, Rowley led them to the championship of the newly united Third Division. However, the early part of the 1959-1960 season found Argyle struggling in the new division, and, in March 1960, Rowley left Home Park.
In July 1960, he was appointed manager of Oldham Athletic, guiding them to promotion in 1962-1963. He then spent a year as coach of Ajax Amsterdam, before returning to England to manage Wrexham, Bradford City and, for a second spell, Oldham. He left the game for good at the end of 1969, and ran a sub-post office. Jack Rowley died in 1998 at the age of 79.
[Kindly supplied by Peggy Prior, author of The Gaffer Tapes, a series on Argyle's managers that first appeared in matchday programmes in 2007-08]