Frank Brettell
1903-1905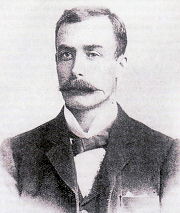 Argyle's first manager was something of a specialist in bringing new clubs into the Football League – the Pilgrims were his third.
Little is known now about Brettell's early years, but he is thought to have been Irish and to have grown up in Liverpool in the third quarter of the nineteenth century. In around 1875, he became player-secretary-manager of Liverpool team St Domingo. St Domingo's Methodist Church already had a cricket team, and football was introduced to provide sport for the winter months. In 1879, St Domingo FC was renamed Everton FC. Brettell played at full back for St Domingo and Everton, while his full time employment was as a reporter on the Liverpool Mercury.
In 1896, Brettell became secretary of Bolton Wanderers, and then, in March 1898, he was appointed the first secretary-manager of Tottenham Hotspur, a young club which had turned professional just a couple of years before and which had joined the Southern League in 1896.
Within a matter of months, Brettell had left Spurs for Portsmouth, reportedly because he was offered more money there. In his first season at Fratton Park, 1899-1900, which was also Pompey's first in the Southern League, the team finished in a remarkable second place.
By 1903, Brettell had some 28 years' experience as a football administrator and manager. He was then invited to build a professional team for Plymouth Argyle, a club which was originally formed in 1886, and to gain entry to the Southern League. Having succeeded in the second task, he used his extensive network of contacts to build a team of experienced professionals which included two former internationals. Some observers commented that the team, most of whom were approaching the end of their playing years, was too old, referring to them as the 'scrap irons', but Brettell led them to a creditable ninth place in their first season and to fourth in their second.
Frank Brettell left Plymouth Argyle in 1905, and retired altogether the following year. Sadly, nothing else is known about him.
[Kindly supplied by Peggy Prior, author of The Gaffer Tapes, a series on Argyle's managers that first appeared in matchday programmes in 2007-08]