Ellis Stuttard
1961-1963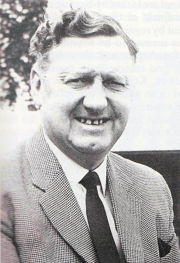 Ellis Stuttard was one of twelve Plymouth Argyle managers to date who have both played for and managed the club, and the second to manage the team more than once.
Stuttard was born in Padiham, Lancashire, in 1920. A versatile defensive player, he joined Burnley as an amateur, but left the club without making a single first team appearance to sign for Argyle in September 1938. He played one League match for the Pilgrims in 1938-1939, and appeared in several games in the War League of 1939-1940 before being called up.
Having served in the RAF during the war, Stuttard returned to Home Park in 1946 and played 28 League matches, scoring once, in 1946-1947. In September 1947, he signed for Torquay United, where he played 85 matches in four seasons. His playing career was rounded off by spells with non-League Bideford and Mousehole.
Having retired as a player, Stuttard went into coaching and management, gaining some experience as assistant manager of Swindon Town before rejoining Argyle as assistant trainer. When Neil Dougall stepped down, Stuttard accepted the role of manager in November 1961.
As one Argyle historian puts it, 'Ellis Stuttard seemed to possess a golden touch'. His first season in charge saw the Pilgrims soaring towards the top of the table, and by Easter, with a run of thirteen wins in eighteen games, they were in third place. First Division football beckoned, but sadly the team's wings were burnt and they ended up in fifth.
1962-1963 was more mundane, with a mid-table finish, and the following season the storm clouds gathered. By the end of September 1963, Argyle had failed to record a single win and Stuttard stepped down. He stayed at Home Park initially, acting as assistant to Andy Beattie, but resigned later in 1963.
Continued in his second spell as manager (1970-72) ...
With thanks to Steve Rhodes for sharing the results of his excellent research into this period of Argyle's history.
[Kindly supplied by Peggy Prior, author of The Gaffer Tapes, a series on Argyle's managers that first appeared in matchday programmes in 2007-08]