David Kemp
1990-1992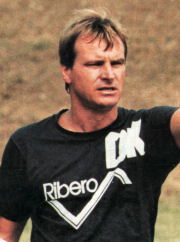 Dave Kemp played for Argyle and has also served the club as both manager and assistant manager.
Kemp was born in Harrow, North London, in 1953. A former Chelsea schoolboy, he played for Harrow Borough, Maidenhead United and Slough Town before winning his first League contract with Crystal Palace in 1975.
Kemp was a compact player: he had been released by Chelsea because he was considered too small. His balance was excellent, and he had a good eye for even the slimmest scoring chance. He also became known for his bravery, prepared as he was to dive into the thick of it if there was a sniff of a goal.
Having scored ten in 35 appearances for Palace, Kemp signed for Portsmouth in November 1976. Although he did not play a full season for Pompey, he was their leading goalscorer in both 1976-1977 and 1977-1978, with 30 goals in 64 League appearances. He also featured in the comic Roy of the Rovers.
In March 1978, Kemp joined Carlisle United, where he notched up another 22 goals in 61 matches before becoming Argyle's then record signing in September 1979. In three seasons at Home Park, he netted 39 goals in 84 League games, as well as spending short periods on loan to Gillingham and Brentford. In 1980-1981 he was voted Player of the Year.
In June 1982, Kemp left England to play in the North American Soccer League (NASL), spending one season with the Edmonton Drillers and one with Seattle Sounders, as well as playing for San Jose Earthquakes. In 1984, he left the NASL, which was fading fast, to play for Oklahoma City Stampede in the short-lived United Soccer League.
Having retired as a player, Dave Kemp's first managerial position was with Swedish club Norrkoping. In 1986, however, he returned to England and served on the coaching staff at Wimbledon. In March 1990 he was appointed Argyle manager.
Kemp's first few weeks in charge of the Pilgrims saw an unbeaten run of eight matches which ensured Second Division safety. For the remainder of his time, though, a reliance on the long-ball game, played mostly by loanees and cheap signings, gave the fans little to cheer about, and he was dismissed in February 1992.
Since leaving Home Park, Kemp has held coaching and managerial positions with Slough Town, Crystal Palace, Wycombe Wanderers, Wimbledon, Millwall, Portsmouth, Oxford United and Leicester City. In August 2004, he became first team coach at Stoke City, working under Tony Pulis, a partnership which had started at Portsmouth. When Pulis was appointed Argyle manager in 2005, Kemp returned with him, and stayed until August 2006, when he rejoined Pulis as assistant manager at Stoke City. Under their leadership, Stoke were promoted to the Premier League in 2008.
[Kindly supplied by Peggy Prior, author of The Gaffer Tapes, a series on Argyle's managers that first appeared in matchday programmes in 2007-08]