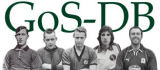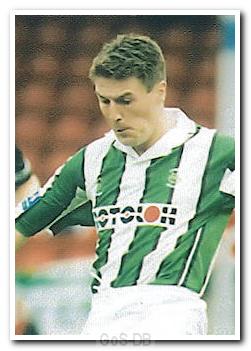 Can you help? This page is the result of the best endeavours of all concerned. If you spot a mistake or know of facts to add, or have a better photo, please get in touch using 'Contact Us' (top, right).
Back to GoS-DB Hub Find Another Player
RICHARD LOGAN
Born: 24 May 1969
Came from: Huddersfield Town Went to: Scunthorpe
First game: 28 October 1995 Last game: 18 April 1998
Appearances: 102 (81/21) Goals: 13
Barnsley-born Logan began his career with local side Worsbrough Bridge Athletic and also played for Belper Town and Gainsborough Trinity before he was signed by Neil Warnock for Huddersfield Town in 1993. After becoming a regular in the Huddersfield side over the next two years, the former bricklayer followed Warnock to Argyle in October 1995. He became an important part of the play-off winning team, virtually ever present for the remainder of the season following his arrival at Home Park. After two more years in and out of the first-team, he left Argyle, joining Scunthorpe United where he enjoyed a long run in the team but could not help the club avoid relegation in 2000. Moving on to Lincoln City, Logan suffered the first of several injuries which limited his appearances over the following three years. He returned to Gainsborough Trinity in 2002 to try and regain his fitness but suffered a prolapsed disc for the second time in two years, an injury that shortly afterwards led to his retirement.
APPEARANCE DETAILS [Reselect Competitions]
The details below reflect appearances in all first-team competitions.
We're grateful to Andy Chapman, Paul Roberts, Steve Rhodes and Tim Herbert for their help in writing GoS-DB's player pen-pictures, and to the PAFC Media Team and Colin Parsons for their help with photos. Thanks also to staff at the National Football Museum, the Scottish Football Museum and ScotlandsPeople for their valuable assistance.
The following publications have been particularly valuable in the research of pen-pictures: Plymouth Argyle, A Complete Record 1903-1989 (Brian Knight, ISBN 0-907969-40-2); Plymouth Argyle, 101 Golden Greats (Andy Riddle, ISBN 1-874287-47-3); Football League Players' Records 1888-1939 (Michael Joyce, ISBN 1-899468-67-6); Football League Players' Records 1946-1988 (Barry Hugman, ISBN 1-85443-020-3) and Plymouth Argyle Football Club Handbooks.