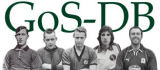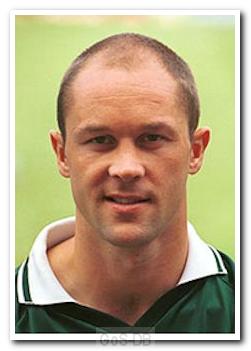 Thanks to Dave Rowntree for many of the player images after 1984.
Can you help? This page is the result of the best endeavours of all concerned. If you spot a mistake or know of facts to add, or have a better photo, please get in touch using 'Contact Us' (top, right).
Back to GoS-DB Hub Find Another Player
MARINO KEITH
Born: 16 December 1974
Came from: Livingston Went to: Colchester United
First game: 17 November 2001 Last game: 08 January 2005
Appearances: 131 (76/55) Goals: 32
Keith began his career with Highland League Fraserburgh, spending five years with the club before his goalscoring abilities led to a move to Dundee United. After two years, and just four substitute appearances at Tannadice, Keith moved to Falkirk. After scoring 28 goals in two seasons there he was sold to Livingston, where he spent a further two years, playing and scoring only occasionally. Moving south to join Argyle in November 2001, Keith became a fans' favourite and had a respectable goalscoring record for the club. He had almost as many substitute appearances as starts at Home Park and often saw his first-team chances limited due to injury. After nearly four seasons with Argyle he was released and joined Colchester United, getting off to a decent start with four goals in his first 12 matches. He picked up a serious Achilles injury in the following pre-season and spent two years trying to regain his fitness before being forced to retire from full-time football. Returning to Scotland, Keith tried his luck part-time with his hometown club Peterhead but soon had to call it quits for good.
YOUR CONTRIBUTION
If you can add to this profile, perhaps with special memories, a favourite story or the results of your original research, please contribute here.
From Andrew Chapman in Leeds on 25/10/2013 ...
Admittedly it was only awarded once as we are a disorganised rabble, but Marino was the first (and therefore only!) winner of the Leeds Greens' Champagne Moment of the Season Award. This came c/o Marino's epic winner in the comeback 3-2 win at Swindon Town in December 2002 (how can that be over 10 years ago?!). At a ground we rarely did well at, we found ourselves 2-0 up before the inevitable and frustrating comeback (including one from future Green Rory Fallon) before the game went into added-time all square. A late challenge by an already yellow-carded Town player for a late tackle as Luke ... More
From Lionel Campuzano in Crewe, Cheshire. on 29/10/2013 ...
Where it is mentioned at the beginning of the text that Marino began his career at Non League Fraserburgh, you might like to make it more specific and state that it was at 'Scottish Highland Football League Club, Fraserburgh'.
From Andrew Chapman (GoS contributor) in Leeds, West Yorkshire on 08/02/2015 ...
Just to update Lionel's comment, in a subsequent re-write, we've now corrected 'non-league Fraserburgh' to 'Highland League Fraserburgh'.
APPEARANCE DETAILS [reselect competitions]
The details below reflect appearances in all first-team competitions.
We're grateful to Andy Chapman, Paul Roberts, Steve Rhodes and Mark Lovell for their help in writing GoS-DB's player pen-pictures, and to the PAFC Media Team and Colin Parsons for their help with photos. Thanks also to staff at the National Football Museum, the Scottish Football Museum and ScotlandsPeople for their valuable assistance.
The following publications have been particularly valuable in the research of pen-pictures: Plymouth Argyle, A Complete Record 1903-1989 (Brian Knight, ISBN 0-907969-40-2); Plymouth Argyle, 101 Golden Greats (Andy Riddle, ISBN 1-874287-47-3); Football League Players' Records 1888-1939 (Michael Joyce, ISBN 1-899468-67-6); Football League Players' Records 1946-1988 (Barry Hugman, ISBN 1-85443-020-3) and Plymouth Argyle Football Club Handbooks.