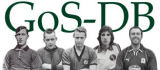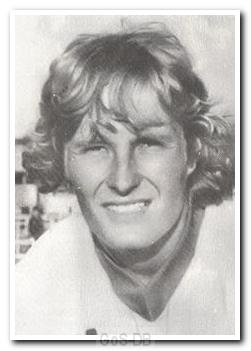 Can you help? This page is the result of the best endeavours of all concerned. If you spot a mistake or know of facts to add, or have a better photo, please get in touch using 'Contact Us' (top, right).
Back to GoS-DB Hub Find Another Player
RAY GOODING
Born: 16 February 1959
Came from: Coventry City Went to: Retired
First game: 28 August 1982 Last game: 28 September 1982
Appearances: 9 (9/0) Goals: 1
Hartlepool-born Gooding started his career with Coventry City after he was signed by Gordon Milne in 1976. With a midfield that included Tommy Hutchinson, Terry Yorath and a young Gary Gilllespie, it was always going to be a difficult to establish himself, but he still managed 49 appearances in his time at Coventry, which included a month's loan to Bristol City in 1981-82. Joining Argyle for the 82-83 season, he made seven straight starts and scored in the home win against Wrexham in September 1982. However, his stay with Argyle and indeed his entire career was curtailed by a cruciate ligament injury, which forced his retirement from the professional game. He then played briefly for Bedworth United before giving up the game. Gooding returned to John Sillett's Coventry in 1988, playing a key role in coaching two sides to the FA Youth Cup Final before returning to his native North-east to work as an Academy Scout with Newcastle United.
YOUR CONTRIBUTION
If you can add to this profile, perhaps with special memories, a favourite story or the results of your original research, please contribute here.
APPEARANCE DETAILS [reselect competitions]
The details below reflect appearances in the following selected competitions: Southern & Western Leagues, Football League, FA Cup, League Cup, Minor Cups
Excluded: Football League (1939), War Leagues
We're grateful to Andy Chapman, Paul Roberts, Steve Rhodes and Mark Lovell for their help in writing GoS-DB's player pen-pictures, and to the PAFC Media Team and Colin Parsons for their help with photos. Thanks also to staff at the National Football Museum, the Scottish Football Museum and ScotlandsPeople for their valuable assistance.
The following publications have been particularly valuable in the research of pen-pictures: Plymouth Argyle, A Complete Record 1903-1989 (Brian Knight, ISBN 0-907969-40-2); Plymouth Argyle, 101 Golden Greats (Andy Riddle, ISBN 1-874287-47-3); Football League Players' Records 1888-1939 (Michael Joyce, ISBN 1-899468-67-6); Football League Players' Records 1946-1988 (Barry Hugman, ISBN 1-85443-020-3) and Plymouth Argyle Football Club Handbooks.