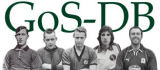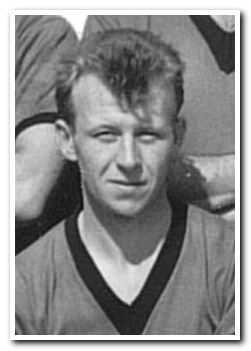 Can you help? This page is the result of the best endeavours of all concerned. If you spot a mistake or know of facts to add, or have a better photo, please get in touch using 'Contact Us' (top, right).
Back to GoS-DB Hub Find Another Player
GEORGE BAKER
Full Name: Thomas George Baker (also known as Tom)
Born: 06 April 1936
Came from: Maerdy Went to: Shrewsbury Town
First game: 23 October 1954 Last game: 24 October 1959
Appearances: 83 (83/0) Goals: 17
Signed as a teenager in the early fifties, Rhondda-born Baker developed in the Plymouth & District, Devon Wednesday and Football Combination Leagues. His big break came on Christmas Day 1957 at Newport County, when his inclusion brought together the successful forward line of Anderson, Carter, Baker, Gauld and Penk. Originally a winger, Baker was converted into a deep-lying centre-forward, a role pioneered by the great Hungarian side of the mid-fifties. Never a prolific scorer, he had an important role appreciated more by colleagues than supporters. His career highlight came on 23 April 1958 at Wrexham when Wales under-23s beat an England side spearheaded by Brian Clough and Jimmy Greaves. Bothered by a knee injury, he played only twice more for Argyle after the 58-59 promotion. In 1961 he moved to Shrewsbury under player-manager Arthur Rowley. He was in the Town side against Walsall when Rowley broke Dixie Dean's record for Football League goals. After leaving Gay Meadow he eventually returned to South Wales, playing for Barry Town.
YOUR CONTRIBUTION
If you can add to this profile, perhaps with special memories, a favourite story or the results of your original research, please contribute here.
From Steve Rhodes in Romsey, Hampshire on 15/06/2014 ...
The Welsh World Cup squad for the 1958 tournament in Sweden included "Number 22 George Baker (Plymouth Argyle)". When I met George 50 years later, one of the first questions I asked him was what it had been like to be in Sweden, rubbing shoulders with some of the greatest players the planet had ever seen. His answer astounded me. "I never went" he told me. "Four of the Welsh FA officials decided to take their wives. That meant there were not enough seats on the plane and me and three others were left at home. We were told to stay fit in case we were needed, but the call never came." Imagine that happening today? The Press would have a field day.
APPEARANCE DETAILS [reselect competitions]
The details below reflect appearances in all first-team competitions.
We're grateful to Andy Chapman, Paul Roberts, Steve Rhodes and Mark Lovell for their help in writing GoS-DB's player pen-pictures, and to the PAFC Media Team and Colin Parsons for their help with photos. Thanks also to staff at the National Football Museum, the Scottish Football Museum and ScotlandsPeople for their valuable assistance.
The following publications have been particularly valuable in the research of pen-pictures: Plymouth Argyle, A Complete Record 1903-1989 (Brian Knight, ISBN 0-907969-40-2); Plymouth Argyle, 101 Golden Greats (Andy Riddle, ISBN 1-874287-47-3); Football League Players' Records 1888-1939 (Michael Joyce, ISBN 1-899468-67-6); Football League Players' Records 1946-1988 (Barry Hugman, ISBN 1-85443-020-3) and Plymouth Argyle Football Club Handbooks.