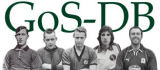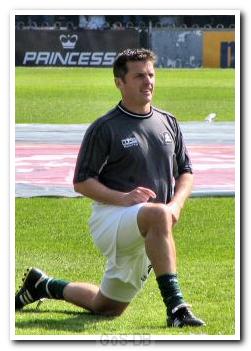 Can you help? This page is the result of the best endeavours of all concerned. If you spot a mistake or know of facts to add, or have a better photo, please get in touch using 'Contact Us' (top, right).
Back to GoS-DB Hub Find Another Player
JASON DODD
Born: 02 November 1970
Came from: Southampton Went to: Southampton
First game: 02 April 2005 Last game: 16 April 2005
Appearances: 4 (4/0) Goals: 0
Dodd began his career with hometown club Bath City, before a move to Southampton, where he spent the next 16 years, making over 350 appearances for the club and gaining international recognition with England at under-21 level. Towards the end of his time there he joined Argyle on a two month loan. Dodd was considering retirement but was rumoured to be interested in a permanent move to Argyle, but this did not materialise. He spent a year at Brighton and Hove Albion but was plagued by an ankle injury. He then joined Eastleigh, but the injury soon led to retirement, after which he moved into coaching, eventually returning to Southampton as director of their youth academy.
APPEARANCE DETAILS [Reselect Competitions]
The details below reflect appearances in all first-team competitions.
We're grateful to Andy Chapman, Paul Roberts, Steve Rhodes and Tim Herbert for their help in writing GoS-DB's player pen-pictures, and to the PAFC Media Team and Colin Parsons for their help with photos. Thanks also to staff at the National Football Museum, the Scottish Football Museum and ScotlandsPeople for their valuable assistance.
The following publications have been particularly valuable in the research of pen-pictures: Plymouth Argyle, A Complete Record 1903-1989 (Brian Knight, ISBN 0-907969-40-2); Plymouth Argyle, 101 Golden Greats (Andy Riddle, ISBN 1-874287-47-3); Football League Players' Records 1888-1939 (Michael Joyce, ISBN 1-899468-67-6); Football League Players' Records 1946-1988 (Barry Hugman, ISBN 1-85443-020-3) and Plymouth Argyle Football Club Handbooks.