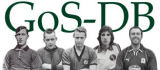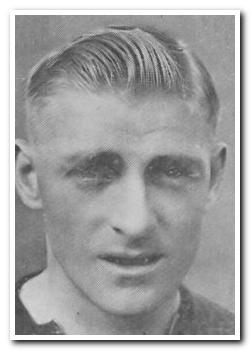 Can you help? This page is the result of the best endeavours of all concerned. If you spot a mistake or know of facts to add, or have a better photo, please get in touch using 'Contact Us' (top, right).
Back to GoS-DB Hub Find Another Player
JIMMY COOKSON
Born: 06 December 1904
Came from: West Bromwich Albion Went to: Swindon Town
First game: 26 August 1933 Last game: 02 May 1936
Appearances: 48 (48/0) Goals: 38
Mancunian Cookson began life as a right-back with South Salford Lads' Club and then played for Clayton and Manchester North End before he was signed by Manchester City in 1923. Failing to make a breakthrough into City's first team, he was loaned to Southport for a trial period in 1924, and then moved on to Chesterfield the following year. His conversion to a centre-forward at Saltergate saw his career take off and break records galore, scoring a remarkable 85 goals in just 74 games. Signing for West Bromwich Albion in 1927, he continued to bang in the goals - 103 in 122 games - and was a key part of the team that won the FA Cup and promotion to Division One in 1930-31. He was also selected for the FA tour of Canada in 1931. In one match for the Midlands club he scored six times, against Blackpool in 1927, with five coming in a 24 minute spell in the second half. A move to Argyle in 1933 did not blunt his instincts; his great quality: a willingness to shoot, and shoot early, whenever a chance came his way. His rich scoring form continued, especially in his first year in green, when he bagged close to a goal a game. After three seasons at Home Park, he ended his career at Swindon Town, where he was as prolific as ever, scoring 31 goals in 50 games.
YOUR CONTRIBUTION
If you can add to this profile, perhaps with special memories, a favourite story or the results of your original research, please contribute here.
APPEARANCE DETAILS [reselect competitions]
The details below reflect appearances in all first-team competitions.
We're grateful to Andy Chapman, Paul Roberts, Steve Rhodes and Mark Lovell for their help in writing GoS-DB's player pen-pictures, and to the PAFC Media Team and Colin Parsons for their help with photos. Thanks also to staff at the National Football Museum, the Scottish Football Museum and ScotlandsPeople for their valuable assistance.
The following publications have been particularly valuable in the research of pen-pictures: Plymouth Argyle, A Complete Record 1903-1989 (Brian Knight, ISBN 0-907969-40-2); Plymouth Argyle, 101 Golden Greats (Andy Riddle, ISBN 1-874287-47-3); Football League Players' Records 1888-1939 (Michael Joyce, ISBN 1-899468-67-6); Football League Players' Records 1946-1988 (Barry Hugman, ISBN 1-85443-020-3) and Plymouth Argyle Football Club Handbooks.