An extract from "Thanks for the Memory", by Steve Rhodes, to be published in the new year:
"Saturday 22 November 1958 in Plymouth had a distinct Welsh flavour. In the morning, at the Plymouth Register Office, Argyle's Wales under 23 international centre-forward George Baker married his childhood sweetheart Moira Bromley. Rhymney born wing-half John 'Cardiff'' Williams was best man. In the final Welsh connection of the day, Wrexham made their first ever visit to Home Park. Jimmy Gauld and Harry Penk scored the goals in a 2-2 draw before the team hurried off to Dingles' Dartmoor Restaurant for the reception."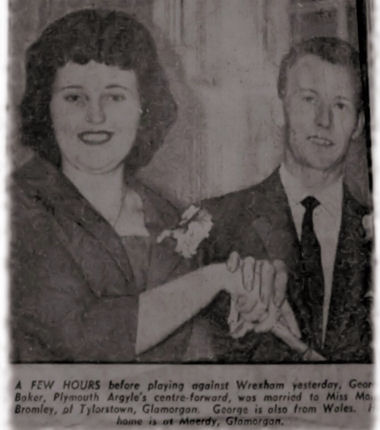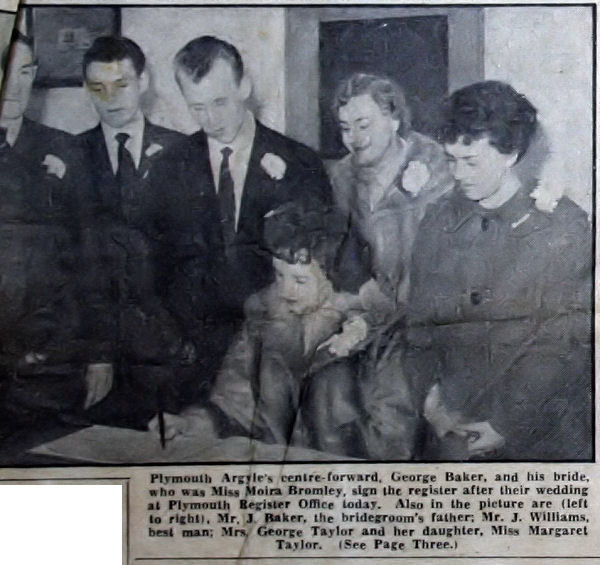 George and Moira celebrated their Golden Wedding Anniversary on Saturday 22 November, 2008, coincidentally another Welsh day at Home Park. This time Argyle entertained Cardiff City, the best man's former club.
Below: Hot off the press, the wedding on the Herald's front page, and other fascinating news that day.
Further below: The groom (2nd left) and best man (far right) at Home Park, a month short of 50 years later.